SENIORS FOR $ALE
---

In early May 2021, Japanese American seniors living at senior living facilities established by Keiro were served 60-day eviction notices to clear the way for market-rate housing. In contradiction to the current callousness, the profiteers in the JA community claim that: "For 60 years, the name Keiro ("respect for our elders") has reflected the values of the Japanese American and Japanese community and our commitment to enhance the quality of senior life in Our Community."

Beginning in 1961, Keiro provided culturally sensitive senior living care for the community. The foundation expanded its real estate holdings and services with donations from the community, including many elderly JA's who signed over their properties towards the end of their lives. In 2016, the Keiro Foundation sold its four senior care facilities to Pacifica for $41 million.

Following the sale, the seniors were given a five year grace period and an intentionally ineffective community advisory board. When the Covid-19 pandemic hit, Pacifica chose to designate the Lincoln Heights facility as a Covid-19 site for profit, bringing Covid patients into the home, eventually leading the facility to have one of the worst Covid death rates in the country. Keiro is an egregious example of the exploitation and erasure of the working-class people who built Little Tokyo.

Our so-called leaders have always seized the opportunity to betray our community in favor of businesses and developers. In the 1940s, our neighborhoods were forcefully converted into the LAPD's Parker Center. In the last decade, the city seized our neighborhoods again to expand the Metro. Japanese Village Plaza was sold off to Public Storage, to host gentrifying businesses like Mokuyobi. Their greed has engineered a commercial "community" that prioritizes wealth over dignity to strengthen a violent pattern of displacement.

We demand that Shawn Miyake, former President and CEO, and the board explain why the living conditions of Keiro have dramatically declined under their leadership. We demand full disclosure and account of every dollar of Keiro's sale. We demand transparency from any organization that claims to represent us. We demand prioritization of the working class and housing insecure.

These betrayals can not continue. Care will not be extinguished by greed. We do not accept the defeatist refrain of Shikata ga nai.

It can be helped.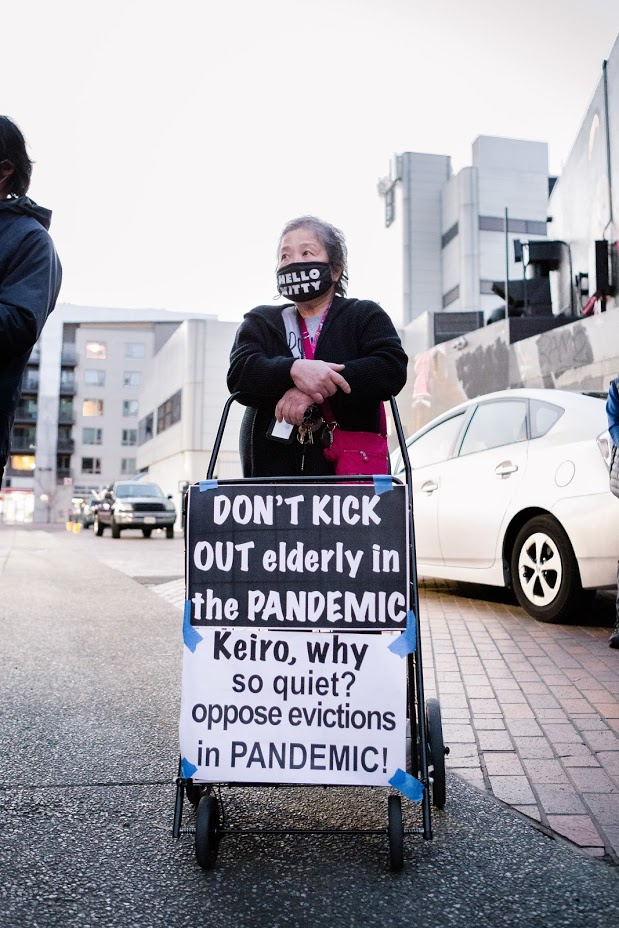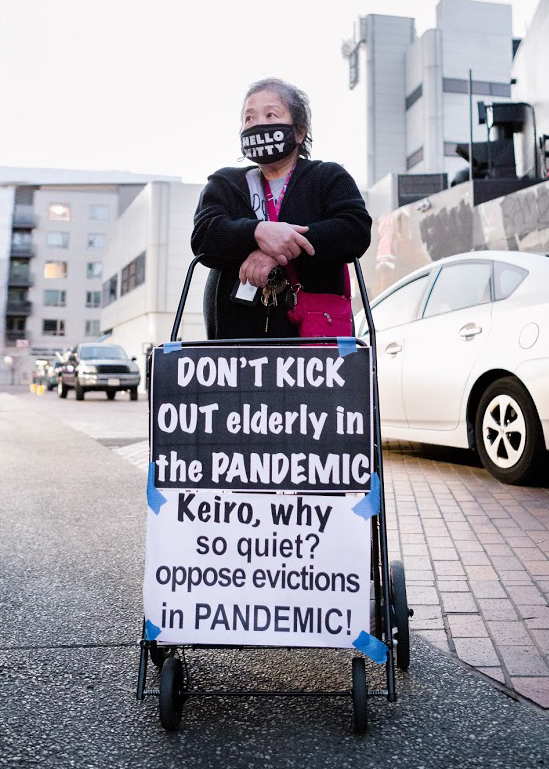 Photo: Steven Chun